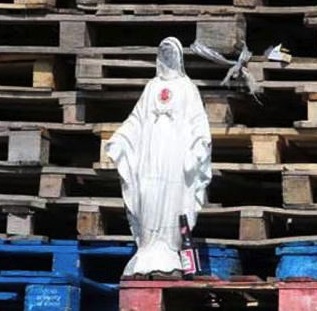 A new priest was assigned to our church recently. Great priests aren't a dime a dozen, and our previous pastor had remembered all the kids' names and sung Sinatra from the altar. I'd been sorry about his departure and curious about who the replacement would be.
After I met him once or twice, someone told me he'd been  in politics before going to seminary. So one morning during after-Mass donuts in the parish hall, I asked him about it.
I was a lobbyist, he said. In the Boston State House. In healthcare.
So I asked him what he thought of Obamacare. He laughed — "okay, this is my political side talking, not my theological side" — and offered his opinion on building a broad base of support on an issue so large.
"For example, it's important because….well, what's your field?" And then he asked the same of my friend Jill, who'd been standing with me.
What's your field. With that simple question he stopped me short and made my day.
He knew nothing about me, other than the fact that several chocolate-glazed children were calling me mom.
I can count on one hand the number of times I've been asked that question in the past 10 years, by men or women. The assumption is that I probably don't have a field, or at least don't anymore, or that it would be dicey to ask and infer that working at home wasn't work.
I can't tell you how refreshing it was, and to hear my friend Jill answer "finance" along with her husband Ricardo, even though her day job now is raising two boys. Because that is her field. It's what she worked in, built a reputation in, and where her expertise lies. It's her thing.
It made my day, hearing that kind of assumption of a woman's thing outside of momming. And it came from a Catholic priest.