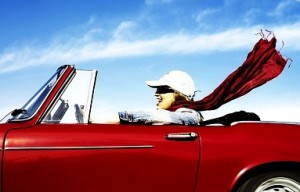 My book's launch party felt a little like a wedding. Well, one where my five children had already been born, and were racing around jacked up on chocolate-dipped strawberries. The bash was in an old brownstone in Boston. I slipped into canary-yellow shoes more than a few inches beyond my comfort zone (my fear and secret thrill: I'll never be able to chase the kids in these), and read a bit  in front of friends who appreciated what it had taken to get there.
In the past 10 years of my writing life, I'd gone from being a magazine journalist and mother of one to a mother of five writing freelance articles and bits of a novel in stolen moments. That evening of the launch party felt like a line of demarcation: who I was before, who I'd become, who I was becoming. After a pretty intense diaper decade there was a sense of  coming into alignment. The years of of being the crazywoman writing in the attic resulted in something I could hold in my hand, and share.
Shortly after the launch party I started traveling, taking time away from a household that operated on the best of days like a catamaran flying a hull. My husband was able to come on several trips — my parents gave us the gift of babysitting for Christmas — and it was good to be able to show him the reality of releasing a book. One night there might be an audience of 75 and the next just a few, including several who had to, because they worked there. Mornings, I'd get in a rental car and drive to bookstores that were not stocking my book in hopes they might give it a chance. My father asked what felt like to finally be traveling for my book. I told him that I loved it, but it was a lot like being a Fuller Brush salesman. Brushes you'd made yourself. One horsehair at a time from a very moody mare.
The bigger trips shimmered on the calendar like tinsel and Easter grass. But to be honest, I dreaded them too. I imagined reading in a Chicago bookstore and receiving a call from a hospital back home. Or almost as bad, a simple text message that I'd failed to call in time before bed, and small people were sad. (Which happened.) Home no longer seemed like something that was functioning just fine, humming along the track back there. Home felt like something that needed to be in my back pocket, my tote bag, the train seat beside me. A New York event was more fun with my two oldest along; they were wide-eyed at the hotel mini-bar candy, the Empire State Building, Amtrak's café. The highlight of a reading on the Cape was my dinner date afterward, my four-year-old son who was so giddy about the high patio over the dunes that he dropped the ketchup bottle down into them. Ooops.
Back to the launch party, which I'd anticipated and feared like a yellow line through my life. Toward the end of the evening, as I sat signing books, my oldest child walked up. My 11 year old, my mature one. He interrupted my conversation with the publisher of a magazine where I'd once worked to hand me his stained napkin and empty kebab stick. "Here, Mom, I can't find the garbage."
Here Mom, I can't find the garbage.
And that — along with the fact that after the party, I was squatting in those high yellow shoes to change a diaper — perfectly summed up the line of demarcation. There was none. Nor did I want there to be.